2015 Scrabble Challenge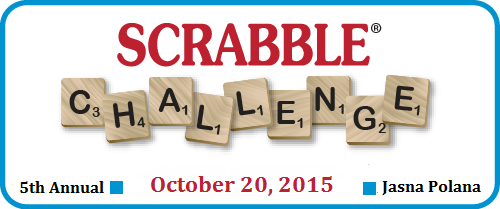 The Scrabble Challenge pits teams of three players against other teams for two rounds of play in a fun and social environment. Teammates collaborate to form words and each team plays from one tile rack. 
All adult Scrabble players -- recreational and competitive -- are welcome. Teams will be matched with other teams according to level of play. Trophies will be awarded in two separate categories: Competitive and Recreational. 
Non-playing guests can observe the games and cheer on their favorite teams!
Tuesday, October 20, 2015 • 5:30 p.m. - 9 p.m.
Jasna Polana • 4519 Province Line Road • Princeton, NJ 08540
Special Feature: Wine Pull!
Take part in this "spirited" gamble. Select a "mystery" bottle at the Wine Pull table-- your bottle is guaranteed to be worth $25 to $100. Tickets are sold during the event for $25. You can't lose! 
Scrabble Challenge Schedule
5:30 PM Reception
6:00 PM Dinner (Pasta Buffet)
7:15 PM Game 1 Begins
7:45 PM Dessert
8:15 PM Game 2 Begins
9:00 PM Awards Presentation
Click Here to see the Scrabble Challenge Rules • Business or Business Casual Attire